Hutto New Ford F-250 Overview
What's New?
|
Pricing
|
Engine
|
Fuel Economy
|
Tech & Safety
Hutto 2022 Ford Super Duty F-250 Overview
Texans form a special bond with their cars, especially pick-up trucks. And you can tell by the number of trucks you'll come across on the road, parking areas, or ranches in Hutto. And this makes sense considering super-duty trucks are not only better looking than minivans and tiny crossovers, but they're also far more powerful and functional. You can haul tools, trailers, furniture, and even your buddies. Even if you're not going to haul anything heavy, there's no better feeling than parking a mini-tank on your driveway.
For drivers who value function, powerful performance, and space over fuel economy and fashion, we highly recommend the 2022 Ford F-250. It is the perfect super-duty truck for Hutto residents looking to tow trailers, haul heavy equipment, and go on off-road adventures. The standard Hutto Ford F-250 features a powerful 6.2L V8 gas engine that puts out a massive 1050 lb-ft of torque. The most powerful trim is capable of towing up to 37,000 pounds.
That's not all. The 2022 Ford F-250 is equipped with a myriad of tech features which is is why it ranks so high in the Hutto auto market. Plus, it's like a studio apartment on wheels with a luxurious crew cabin that offers plenty of legroom and a spacious trunk to keep all your tools and heavy equipment. So, whether it's to cruise around town or drive to a ranch or construction site, the Hutto Ford F-250 has everything you need to get there in style.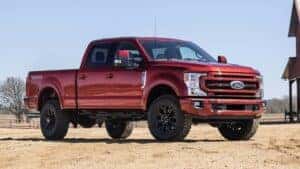 2022 Ford F-250
Quick Stats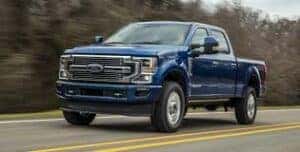 Below are a few quick highlights of the Ford F-250. Call Us at
(512) 642-8436
with any questions.
Starting MSRP:
$ 44,830
Gas Mileage:
Up to 17 MPG
Trims Available:
XL, XLT, Lariat, King Ranch, Platinum, & Limited
Seating:
Up to 6
Safety Rating:
5 stars
2022 Ford F-250 Super Duty – What's New in Hutto?
There are a few updates to the 2022 Ford F-250. The updates include new interior color choices, paint colors, and new infotainment features. The touchscreen, with Ford's Sync 4 and both Apple CarPlay and Android Auth, is a whopping 12 inches.
The new Lariat Sport Appearance Package adds body-colored bumpers, chrome exhaust tip, black running boards, and body-colored mirrors and grille. There is also a Black Appearance Package available on the XLT trim.
How Much Does the Hutto Ford F-250 Cost?
For 2022, Ford has introduced several configurations with different features and capabilities available at different prices. For instance, the base trim costs $44,830 and includes an all/rear-wheel drive powertrain with 6-speed automatic transmission. In contrast, the Lariat trim costs $56,980 and comes with more advanced tech features and a higher-quality interior. Here's the complete price structure of the 2022 Ford F-250:
XL: $44,830
XLT: $50,675
Lariat: $56,980
King Ranch: $69,640
Platinum: $72,955
Limited: $91,675
Engine | Performance, and Transmission
The Ford F-250 is available in two powertrain options. You can either opt for an four-wheel drive or rear-wheel drive. All trims come with a standard 6.2L V-8 gas engine with 385 horsepower and 430 lb-ft of torque. If you want slightly more power and distribution, you can upgrade to a 10-speed automatic 7.3L V-8 gas engine that puts out 430 horsepower and 475 lb-ft of torque. If you want even more power than we recommend the 7.7L V-8 diesel engine variant that produces 475 horsepower and 1,050 lb-ft of torque.
Fuel Economy of the Hutto 2022 Ford F-250
The EPA does not test super-duty trucks because they're designed for functionality, not fuel efficiency. Still, the standard 6.2L trims managed a fuel economy rating around 13 miles per gallon. In contrast, the 7.7L diesel trim scored a rating around 17 miles per gallon.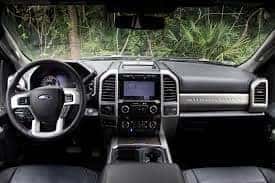 Tech and Safety on the Hutto New Ford F-250
Unlike many pickup trucks, the 2022 Ford F-250 is loaded with the latest tech features. Only the base trim comes with a 4.2-inch infotainment display. All other trims include an 12-inch screen with gauge cluster display. The infotainment system supports Apple CarPlay and Android Auto, and also features a 10-speaker sound system, in-built navigation, and a dedicated Wi-Fi hotspot. If you want to power up equipment, you can use the 100-volt outlet and charging ports.
In terms of safety, the Hutto Ford F-250 managed a pretty decent 4-star rating on the NHTSA crash test. This is due to advanced safety and driver assistance features, such as front automatic emergency braking, blind-spot monitoring, trailer sway, and adaptive cruise control, and more.
Contact Us to Test Drive a 2022 Ford F-250 Super Duty
Overall, we believe that the 2022 Ford F-250 is a great addition to the super-duty truck market in Hutto. It perfectly combines the space of a minivan with the tech and safety features of a modern crossover to create an impressive machine. But its powerful engine configurations take it one step further. So whether you plan to haul heavy equipment or are just another Texan who loves pick-up trucks, the Hutto Ford F-250 is a great option.