Hutto New Ford F-150 Overview
What's New? | Pricing | Engine | What's Inside? | Tech & Safety
Hutto 2022 Ford F-150 Overview
The new Hutto 2022 Ford F-150 comes with new towing features that will take the guesswork out of determining the tongue weight for towing and the weight of payload you're trying to pull. Also, new and improved continuous controlled damping makes your driving experience smoother by taking bumps out of your off-road adventures and daily drive. Now, let us take a deep dive into what the new Ford F-150 has to offer customers this year!

2022 Ford F-150
Quick Stats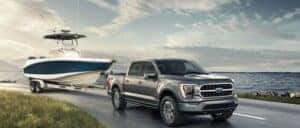 Below are a few quick highlights of the Ford F-150. Call Us at (512) 642-8436 with any questions.
Starting MSRP:
$ 29,640
Gas Mileage:
Up to 25 MPG City or Hwy
Trims Available:
XL, XLT, Lariat, King Ranch, Platinum, Limited, Raptor, & Tremor
Seating:
Up to 6
Safety Rating:
5 stars
2022 Ford F-150 – What's New in Hutto?
With the new F-150, Ford has decided to discontinue the Power Stroke diesel engine. It is now available with the Lead Foot, Kodiak Brown, and Guard color options. What's more, the Hutto 2022 Ford F-150 introduces the new F-150 Tremor and the Blue Cruise hands-free driving system.
However, the most exciting news about the new Ford F-150 is that it comes in the Raptor R edition with a growling V8. That said, 2022 is the year we finally see the arrival of the all-electric version as well, the F-150 Lightning.
How Much Does the Hutto F-150 Cost?
The price for the 2022 Ford F-150 in Hutto varies on how you configure it and the trim options you choose. The no-frills F-150 XL is equipped with a regular cab and a short box, and it starts at around $29,640. The popular F-150 XLT starts at around $35,750, while the higher trim F-150 Lariat variant starts at around $45,760.
For the high-level trims, the F-150 King Ranch comes in at around $56,230, the F-150 Platinum at around $59,010, and the F-150 Limited at around $73,455. As far as the off-road models go, the F-150 Raptor starts at $64,495, and the F-150 Tremor starts at $49,855.
Engine | Performance, and Transmission
The 2022 Ford F-150 in Hutto is offered with a 2.7-liter EcoBoost V6 that produces around 325 horsepower and 400 lb-ft of torque. This engine certainly shows that a six-cylinder can pull its load like an eight-cylinder.
However, if you require more power, you can opt for the Ford F-150 with a 3.5-liter PowerBoost Hybrid V6 having 430 bhp and torque at 570 lb-ft, a 3.5-liter Ecoboost V6 with 400bhp and torque at 500 lb-ft, a PowerStroke V6 with torque at 440 lb-ft, or a 5-liter V8 with 400 bhp and torque at 410 lb-ft.
Furthermore, the new Ford F-150 Lightning is all-electric, and it produces a maximum of 5,26bhp and torque at 775 lb-ft. As far as the transmission options are concerned, the base variant of the F-150 comes with a 6-speed automatic, while all other variants come mated with a 10-Speed SelectShift Automatic Transmission.
As far as the exterior of the 2022 Ford F-150 goes, the truck doesn't look that different from the previous generations. However, if you're a sucker for a rugged, traditional pickup truck, you'll love this year's Ford F-150.
The Hutto 2022 Ford F-150 comes with various interior and exterior features that you can choose between. The base XL trim is a no-nonsense, stripped-down work truck. On the other hand, the top-of-the-line Limited variant exudes full-blown luxury. That said, in-between variants of the new Ford F-150 come in various trims, interior, and exterior options.
However, in each variant of the F-150, the interior is functional and practical. The driver can access interior control easily, and everything can be found where it should be. Similarly, tech options such as a digital gauge cluster, a 12-inch infotainment system, and wireless charging fulfill your media consumption cravings while driving the new Ford F-150.
Furthermore, the F-150's interior is comfortable and roomy for the front-seat passenger. However, the back seat passengers will struggle for space as the back seats are tight in the SuperCab models.
That said, the interior of the 2022 Ford F-150 in Hutto can change depending on the trim level you go for. For instance, the base-level XL and XLT models are stylish and humble. On the other hand, the King Ranch, Platinum, and Limited models look and feel more luxurious. Similarly, the Raptor and Tremor look and feel rugged, showing off their off-road abilities.

Tech and Safety on the Hutto New Ford F-150
As far as safety features are concerned, we can't ignore the fact that every new Ford F-150 comes with crash avoidance and assistance features. Add to that active assistance and forward-collision warning system, and F-150 drivers will feel more confident while driving their new truck. Also, the new Ford F-150 comes with dynamic brake support and automatic braking assistance.
Every Ford F-150 model, except the base variant, also comes with adaptive cruise control that can be linked with evasive steering assist and an automatic lane-centering system to provide more peace of mind. A wide-angle 360-degree camera also helps drivers navigate tight parking spots and spot any danger around the truck.
Contact Us to Test Drive a 2022 Ford F-150
Now is the time to go home or go big with the new Ford F-150 in Hutto. This utilitarian truck has tons of safety features bundled with quick acceleration and excellent off-road capabilities. So, don't wait and get your new F-150 in an engine configuration and trim level that will fulfill your needs and requirements! Here at Covert Ford Hutto, we are excited about getting you into a brand new Ford F-150 truck. Schedule a test drive, or give us a call today 512-759-1414 if you have any questions at all. Our friendly staff will serve you to their utmost ability.