Hutto New Ford EcoSport Overview
What's New?
|
Pricing
|
Engine
|
MPG
|
Tech & Safety
Hutto 2022 Ford EcoSport Overview
The 2022 Ford EcoSport is Ford's latest offering to the crowded but highly lucrative sub-compact SUV segment. It is currently the smallest and most affordable SUV in Ford's lineup that has been introduced to the American market after its success in the international market. Plus, the Hutto Ford EcoSport is a massive upgrade from its early incarnations that had a lower quality interior, a basic infotainment system, and limited safety features.
At first glance, the new Ford EcoSport gives off all the right SUV vibes with great ground clearance and a solid foundation, making it an excellent option for small families. Its standard 2.0L 3-cylinder engine is perfect for drivers prioritizing fuel economy yet still want to get there fast.
Overall, the new Ford EcoSport offers a sporty performance which is ideal for Texas residents seeking a care-free everyday commute. It has a stylish interior and decent tech features to keep you connected on the move for work, dropping the kids at school, or shopping. And despite its diminutive size, the EcoSport offers great cargo space and storage.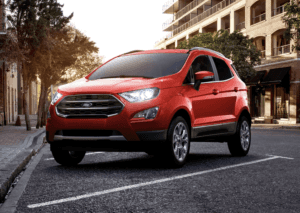 2022 Ford EcoSport
Quick Stats

Below are a few quick highlights of the Ford EcoSport. Call Us at
(512) 642-8436
with any questions.
Starting MSRP:
$ 22,040
Gas Mileage:
up to 23 City / 29 Hwy
Trims Available:
S, SE, SES & Titanium
Seating:
Up to 5
Safety Rating:
4 stars
Ford EcoSport – What's New for 2022?
For the 2022 trims, Ford dropped the 1.0 L 4-cylinder engine. This SUV is a little taller than the 2021 model year. It weighs a little more and has increased towing, perhaps this is why the 2.0 L 4-cylinder engine comes standard.
How Much Does the 2022 Ford EcoSport Cost?
The Ford EcoSport, in Hutto, starts at an amazing MSRP of $22,040. With the S trim starting under $23,000, you miss out on many features the Ford EcoSport has to offer. You can upgrade to a SE trim starting at $25,510. We recommend upgrading at least to the SE trim which features heated front seats, a power-adjustable driver's seat, and automatic climate control. The SE trim also comes with an 8-inch touchscreen and power moon roof. The SES model is available starting at $28,205. To go further and upgrade the interior with faux-leather seats, you can opt for the Titanium trim starting at $28,395.
Engine | Performance, and Transmission
The 2022 Hutto Ford EcoSport has the 2.0L 4-cylinder turbocharged engine putting out 166 horsepower and 149 lb-ft of torque. All trims feature a 6-speed automatic transmission.
The EcoSport offers great handling, cushioning, and towing power. This 4-cylinder version can tow up to 2000 pounds.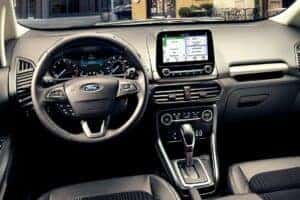 Up to 29 MPG
Highway
Up to 23 MPG
City
Fuel Economy | Real-World MPG
The 4-cylinder SUV has a fuel rating between 23-29 miles per gallon. This is close to many of its rivals in the market that offer a similar EPA ratings but at a higher price.
Technological & Safety Features
The base Ford EcoSport offers a modest 4.2-inch LCD screen with voice control, a six-speaker stereo, and smart-charging USB ports. Higher trims feature an 8-inch touchscreen with Apple CarPlay and Android Auto. All trims have a built-in 4g Wi-Fi hotspot capable of connecting up to 10 devices simultaneously, remote unlocking, and starting. For navigation and a seven-speaker sound system, you'll have to upgrade to the SES or Titanium trim.
Despite its fairly low price tag, the Hutto Ford EcoSport is equipped with standard safety techs, such as automatic lights, hill start assistance, and cruise control. Other standard safety features include eight airbags and a post-crash alert system. By upgrading to the SE trim, you can add a reverse sensing system to the mix, whereas the SES and Titanium trims add blind-spot monitoring and cross-traffic alerts.
Contact Us to Test Drive a 2022 Ford EcoSport
Overall, the 2022 Ford EcoSport is a respectable entry into the sub-compact SUV market, and it looks better than most other options in its segment. With a good score in all checks, including safety and reliability, fuel economy, looks, and performance, it is an affordable all-around option for Hutto residents looking for an everyday-use SUV.