Hutto New Ford Bronco Overview
What's New? | Pricing | Engine | MPG | What's Inside? | Tech & Safety
Hutto 2022 Ford Bronco Overview
After being absent from the market for over two decades, Ford has finally resurrected the legendary Ford Bronco in 2021. But unlike its predecessor, the Ford Bronco is loaded with a fully modern interior, retro styling, removable doors and roof, and tech/safety features. You can also opt for over 200 optional accessories. If you'd like more company with you on your trip, you can also opt for the four-door version.
But what truly makes the Hutto Ford Bronco stand out in the market is its affordable price which is attracting millions of buyers around the country and competing with the likes of Jeep Wrangler. The compact-SUV is not only suitable for daily commuting, but it can handle any off-road condition. So, whether you plan to take a trip from Hutto to the Grand Canyon, the Mojave Desert, or the Rocky Mountains, the 2022 Ford Bronco can get you there in style.
It features three powerful engine options – a 2.3L turbocharged engine, a twin-turbo 2.7L V-6 engine, or twin-turbo 3.0 V6 with 7-speed manual or 10-speed automatic transmission. And the rear-wheel-drive architecture further boosts its off-road capabilities. The cabin is loaded with the latest tech features and durable, waterproof surfaces so you won't mind taking it for a swim. Overall, the Hutto Ford Bronco is a great option for daily commuters who love going on long off-road adventures whenever they get the chance.

2022 Ford Bronco
Quick Stats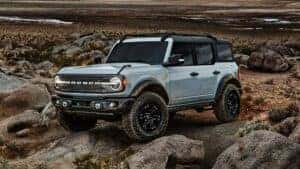 Below are a few quick highlights of the Ford Bronco. Call Us at (512) 642-8436 with any questions.
Starting MSRP:
$ 38,010
Gas Mileage:
up to 34 City / 15 Hwy
Trims Available:
XL, XLT, Lariat, King Ranch, Platinum, & Limited
Seating:
Up to 6
Safety Rating:
5 stars
2022 Ford Broncho – What's New in Hutto?
The 2022 Ford Bronco is a worthy successor to its iconic mid-60's counterpart. It perfectly combines the old-school vibe and versatile nature of its predecessors with a more powerful engine, the latest tech and safety features, and several off-road upgrades. The Ford Bronco also takes a few elements off modern SUVs such as the Ford Escape to improve its handling and fuel economy.
How Much Does the Hutto Ford Bronco Cost?
The base two-door 2022 Ford Bronco trims cost around $31,000 and pack the basic tech and safety features with standard interior. Upgrading to higher trims will get you a more powerful engine, four-door body style, and off-road hardware. If you opt for the Wildtrak trim, you get 17-inch wheels with 35-inch mud-terrain tires. Here's the complete breakdown of the price range:
Base: $31,300
Big Bend: $35,785
Black Diamond: $37,950
Outer Banks: $41,355
Badlands: $44,495
Wildtrak: $49,780
Everglades: $53,000
Raptor: $68,500
Engine | Performance, and Transmission
The 2022 Ford Bronco Lineup packs a powerful 2.3L inline-four engine that produces 300 horsepower and 315 lb-ft of torque. You can also opt for the twin-turbo 2.7L V-6 variant that puts out 330 horsepower and 440 lb-ft of torque. One of the best features of the Bronco lineup is the 35-inch mud-terrain tires that enhance handling in rough conditions, these are found on the Raptor model. According to Ford, other notable features include electronic-locking front and rear differentials and sway-bar-disconnect feature. Lastly, all trims can tow, minimum, 3,340 pounds.
Fuel Economy
The Hutto new Ford Broncho gets up to 21 MPG on the highway, and up to 20 MPG in the city.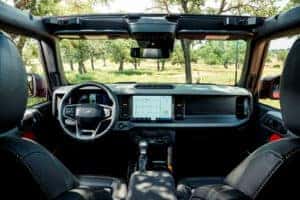 Tech and Safety on the Hutto New Ford Bronco
The entire 2022 Ford Bronco lineup includes Ford's latest Sync 4 software that you can access via an 8-inch or 12-inch touchscreen display. The infotainment system includes a built-in Wi-Fi hotspot and supports Apple CarPlay and Android Auto. Optional features include a B∓O stereo sound system and built-in navigation. You can also access the software using your smartphone and update it via the cloud.
Ford has added a host of safety features and driver assistance technology that promise a great rating. These features include automatic high-beams and parking sensors, lane-departure warning, automated emergency braking, blind-spot monitoring, and forward-collision warning. The off-road hardware also improves safety on trails and rocks.
The 2022 Ford Broncho received a 5-star rating for overall crash and a 4-star rollover rating.
Overall, the 2022 Ford Bronco is an impressive machine and has made a serious impact in its market segment. The entire lineup appeals to outdoor enthusiasts who want a versatile SUV that's not too fuel-thirsty but powerful and agile enough to handle any road conditions.
Here at Covert Ford Hutto, we are excited about getting you into a brand new Ford Bronco. Browse through our selection of 2022 Hutto Ford Bronco for Sale, Schedule a test drive, or give us a call today 512-759-1414 if you have any questions at all. Our friendly staff will serve you to their utmost ability.